ViruShield, Inc. Pioneers The Ghost Shield™, A Revolutionary New Respiratory Shield Engineered to help in the fight against COVID-19 Transmission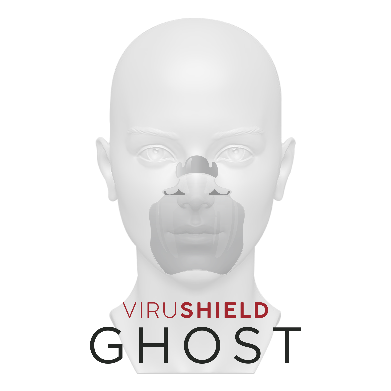 A reusable, strapless, and transparent respiratory shield, The Ghost embraces patent-pending designs to help in the fight against COVID-19 and provide easy breathing and communication. Together with consumers, ViruShield is changing the personal protective equipment (PPE) industry with top-tier enhancements for a safer global community.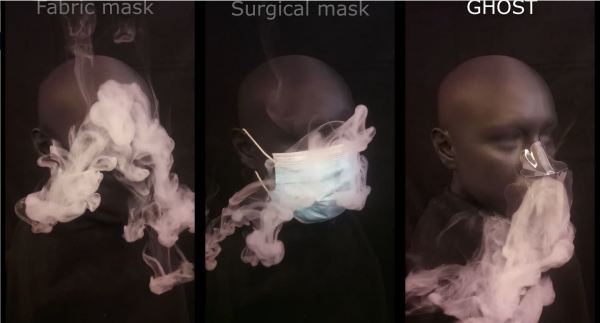 August 11, 2020 – Placerville, CA – ViruShield, Inc. a California-based company and leader in the personal protective equipment (PPE) industry, is pioneering a new line of state-of-the-art products to promote physical health and well-being against potentially deadly pathogens, including the coronavirus. Emerging as a leader in response to the COVID-19 pandemic, which continues to evolve and threaten communities domestically and around the world, ViruShield recently announced The Ghost, a revolutionary new respiratory shield with an all-new concept in managing the spread of respiratory droplets.
Committed to using innovative designs and state-of-the-art technologies to help control the spread of COVID-19, The ViruShield Ghost is a patent-pending transparent, strapless, and reusable respiratory shield. Suitable for regular daily use, the Ghost comes with a flexible and adjustable nose adhesive for a secure fit every time. Its transparent design improves facial communication and personal recognition, enhancing speech for conversation, and making use of face coverings easier for the hearing impaired.
Manufactured with lightweight, industrial-grade materials, the Ghost makes breathing easier and less restrictive than traditional cloth masks. The Ghost is easy to clean with soft cloth and plastic-friendly cleaners and sanitizers. The Ghost is recyclable.
"Our innovative design was developed to promote safety and security and to ensure respiratory is accessible to everyone," said Carl Savoia, Chairman and CEO of ViruShield. "Complying with guidelines from the Centers for Disease Control and Prevention (CDC), ViruShield has become a leader in the personal protective equipment (PPE) industry, renowned for its innovative design approaches. Our transparent and comfortable respiratory shield provides functionality not readily found on the market, and they have received critical acclaim from consumers we surveyed who trust The Ghost for everyday use."
ViruShield remains committed to pursuing the best approaches for consumers to help them prevent the spread of potentially harmful respiratory droplets, including those that carry COVID-19. As face coverings are increasingly mandated in public settings when physical social distancing proves too difficult, the ViruShield Ghost has emerged as a leading solution for people of all ages and backgrounds who find it difficult or impractical to wear a traditional fabric mask.
Designed for a wide variety of environments, including personal and professional settings, the Ghost is made in America. The Ghost shields retail in a three-pack for $19.99 online, with wholesale options available. Estimated shipping times vary from one to two weeks.
To learn more, please visit www.theghostshield.com
About ViruShield, Inc.
ViruShield, Inc. is a California-based company and leader in the personal protective equipment (PPE) industry. Creating groundbreaking products to mitigate the spread of harmful pathogens, ViruShield has been on the frontlines in the fight against the spread COVID-19 and recently launched a new innovative, state-of-the-art respiratory shield for personal or professional use, the ViruShield Ghost™.
To learn more, please visit www.theghostshield.com
Retail Disclosure
ViruShield Ghost is designed for consumer non-medical purposes only. The Ghost is not designed to be or replace any medical-grade PPE, nor is it intended to prevent, mitigate, treat, diagnose, or cure any disease or health condition, including COVID-19. ViruShield GHOST™ is non-sterile and is not intended for use in any clinical or surgical settings, where exposure to bodily or hazardous fluids may be expected, or where there is a risk of exposure through inhalation or near intense heat or flammable gas.
Media Contact
Company Name: ViruShield, Inc.
Contact Person: Media Relations
Email: Send Email
Country: United States
Website: http://www.theghostshield.com