Playing Science Kit: Learn science while playing
A new concept of science experiment kits for the untact era caused by COVID-19
Video Link: https://www.youtube.com/embed/bkmbU8q7hC8
Video Link: https://www.youtube.com/embed/gy6xcV3YkoI
Future Science Education Center Co., Ltd. launched new science experiment kits such as Playing Science and The Haunted house to provide children with untact science education in line with the spread of COVID-19. These science kits are designed to allow children to learn the principles of science while playing.
The company signed a content supply contract with CJ, a Korean content provider, to launch the The Haunted House. The company also designed the playing science kit to provide scientific experiment kits in the form of characters that are familiar to children, allowing them to enjoy scientific experiments while playing.
The contents of the above-mentioned science kits focus on basic science education, and according to ages, users can learn basic science by enjoying and experimenting with the physics, chemistry, biology, and earth sciences, which are the basis of science education. In other words, children can make their own products used in real life and how to drive them while playing the science kits.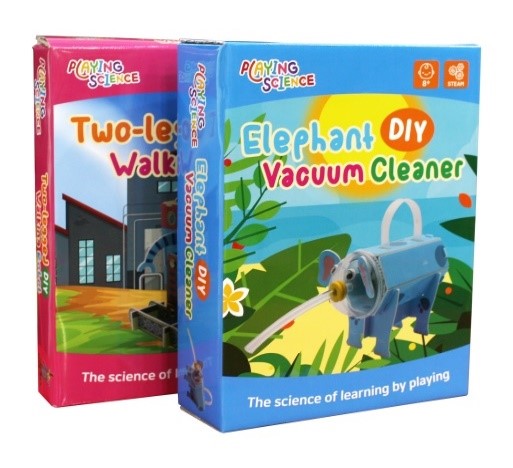 The Playing Science is currently being exported to five countries such as China, Vietnam, Singapore, Thailand and Malaysia, and the volume of exports is steadily increasing.
Since the launch in Korea, the The Haunted house has been receiving steady orders and is growing into the most favorite playing science kits in the B2C market.
The above two brands are manufactured in Korea and they are currently being used in after-school classes and homeschooling in elementary schools in Korea. The brands also provide users with guidance videos when they scan the QR codes.
Media Contact
Company Name: Future Science Education Center Co., Ltd.
Contact Person: SeongJin Shin
Email: Send Email
Phone: +82-10 4516 7454
Country: Korea
Website: https://www.gobizkorea.com/user/goods/frontGoodsDetail.do?goods_no=GS2019112878237&ctgryCode=S0700300070000&upperCode=M0700300000000&goodsNms=DIY-Elephant-Vacuum-Cleaner