Postherpetic Neuralgia Market Insights, Epidemiology, and Market Forecast-2030

DelveInsight has launched a new report on Postherpetic Neuralgia Disease Market Insights, Epidemiology and Market Forecast-2030
DelveInsight's "Postherpetic Neuralgia – Market Insights, Epidemiology, and Market Forecast-2030" report delivers an in-depth understanding of the Postherpetic Neuralgia, historical and forecasted epidemiology as well as the Postherpetic Neuralgia market trends in the United States, EU5 (Germany, Spain, Italy, France, and United Kingdom) and Japan.
The Postherpetic Neuralgia market report provides current treatment practices, emerging drugs, Postherpetic Neuralgia market share of the individual therapies, current and forecasted Postherpetic Neuralgia market Size from 2017 to 2030 segmented by seven major markets. The Report also covers current Postherpetic Neuralgia treatment practice/algorithm, market drivers, market barriers and unmet medical needs to curate best of the opportunities and assesses the underlying potential of the market.
Postherpetic Neuralgia (PHN) is a condition of recurring or persistent pain in an area of the body that has undergone an outbreak of herpes zoster virus (HZ), also known as the varicella zoster virus, commonly termed shingles. It usually begins after shingles lesions (blisters) begin to crust over and heal but may occur in some patients who do not produce lesions. Postherpetic Neuralgia is thought to be caused by the damage or alteration of nerves that register pain, pressure, and other sensory nerves (for example, touch) that occur when the reactivated HZ viruses travel down nerves to the skin. This process first begins when the virus causes chickenpox in an individual; the viruses can infect various dorsal root ganglia (nerve cells) as the chickenpox subsides. These viruses then can be reactivated, usually decades later, and produce shingles lesions. The reactivation of HZ is thought to be due to a stress on the body from either another infection or a immunocompromised state.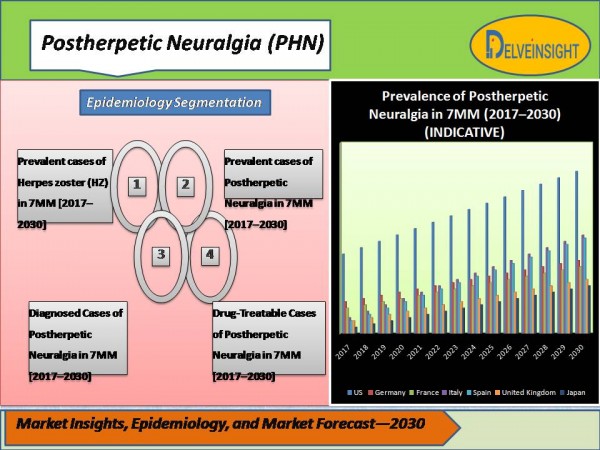 Request for :- PHN free sample page
Epidemiology
The Postherpetic Neuralgia epidemiology division provide insights about historical and current Postherpetic Neuralgia patient pool and forecasted trend for every seven major countries. It helps to recognize the causes of current and forecasted trends by exploring numerous studies and views of key opinion leaders. This part of the DelveInsight report also provides the diagnosed patient pool and their trends along with assumptions undertaken.
Report key facts:-
1. The association between greater age and PHN is strong. At age 60 years, approximately 60% of patients with shingles develop PHN, and at age 70 years, 75% develop PHN.
2. Frequency 1 month after onset of shingles is 9-14.3% and at 3 months is about 5%. At 1 year, 3% continue to have severe pain.
"According to the L. Feller et al. 2017, about 10 to 15% of persons with HZ will develop PHN. This is uncommon under the age of 40 years, but in HZ-affected persons older than 60 years, it occurs in more than 50%. The more intense the mucocutaneouseruptions of HZ and the acute herpetic neuritis pain during the acute phase of HZ, the greater the frequency and intensity of the PHN"
Key companies are working on PHN that are given below:-
1. Lateral Pharma Co.
2. Novartis Pharmceuticals.
3. TEVA Pharmaceuticals Co.
Name of covered drugs are given below:-
1. LAT 8881
2. EMA 401
3. TV 45070
1. Key Insights
2. Executive Summary of Postherpetic Neuralgia
3. Competitive Intelligence Analysis for Postherpetic Neuralgia
4. Postherpetic Neuralgia: Market Overview at a Glance
4.1. Postherpetic Neuralgia Total Market Share (%) Distribution in 2017
4.2. Postherpetic Neuralgia Total Market Share (%) Distribution in 2030
5. Postherpetic Neuralgia: Disease Background and Overview
5.1. Introduction
5.2. Sign and Symptoms
5.3. Pathophysiology
5.4. Risk Factors
5.5. Diagnosis
6. Patient Journey
7. Postherpetic Neuralgia Epidemiology and Patient Population
8. Treatment Algorithm, Current Treatment, and Medical Practices
8.1. Postherpetic Neuralgia Treatment and Management
8.2. Postherpetic Neuralgia Treatment Algorithm
9. Unmet Needs
10. Key Endpoints of Postherpetic Neuralgia Treatment
11. Marketed Products
12. Emerging Therapies
13. Postherpetic Neuralgia: Seven Major Market Analysis
13.1. Key Findings
13.2. Postherpetic Neuralgia Market Size in 7MM
13.3. Postherpetic Neuralgia Market Size by Therapies in the 7MM
14. Attribute analysis
15. 7MM: Market Outlook
16. Access and Reimbursement Overview of Postherpetic Neuralgia
17. KOL Views
18. Market Drivers
19. Market Barriers
20. Appendix
20.1. Bibliography
20.2. Report Methodology
21. DelveInsight Capabilities
22. Disclaimer
23. About DelveInsight
Why should you buy this report?
The report will help in developing business strategies by understanding trends shaping and driving the Postherpetic Neuralgia market
To understand the future market competition in the Postherpetic Neuralgia market and Insightful review of the key market drivers and barriers
Organize sales and marketing efforts by identifying the best opportunities for Postherpetic Neuralgia in the US, Europe (Germany, Spain, Italy, France, and the United Kingdom) and Japan
Identification of strong upcoming players in the market will help in devising strategies that will help in getting ahead of competitors
Organize sales and marketing efforts by identifying the best opportunities for Postherpetic Neuralgia market
To understand the future market competition in the Postherpetic Neuralgia market
Related Reports:-
1. Postherpetic Neuralgia – Global API Manufacturers, Marketed and Phase III Drugs Landscape, 2020
2. Postherpetic Neuralgia – Pipeline Insights, 2020
Media Contact
Company Name: DelveInsight Business Research LLP
Contact Person: Yash Bhardwaj
Email: Send Email
Phone: +919650213330
Address:304 S. Jones Blvd #2432
City: Albany
State: New York
Country: United States
Website: https://www.delveinsight.com/